Chattanooga Football Club and Detroit City Football Club can trace their connections back more than a decade to a chance meeting and small talk over a coffee table book.
It's 2010. Sean Mann is working with Detroit City Futbol League, a grassroots rec soccer league designed to bring communities together to celebrate their love of soccer and the city of Detroit. Quickly, it builds to over a thousand players in action.
Also involved in nonprofit work, Mann decides to take a trip to Chattanooga to shadow Josh McManus and the team working at CreateHere, a nonprofit targeting growth and recruitment in downtown Chattanooga. While in town, Mann meets a face familiar to everyone in the Chattanooga FC universe, Co-founder and current board member, Sheldon Grizzle.
"I'm in Sheldon's office, and while we're talking I see the Chattanooga FC coffee table book that you all had made," said Mann, CEO, Detroit City FC. "I started asking questions, and when I later returned to Detroit, began pitching the idea for a community based soccer team here in Detroit. In 2012, Detroit City was born."
"There was an immediate sense of kinship when we met," said Grizzle. "We both cared deeply for the people and places in our cities. And it just so happened that we both saw soccer as a tool to build community. When Sean saw the photo book about Chattanooga FC's inaugural season, the brainstorming began right there in my office and continued over beers at The Terminal."
In addition to Detroit City Futbol League, which still operates, DCFC manages the first team Men's and Women's programs, youth programs, adult rec programs, and camps, all of which aligns with their mission to "build community through 'the beautiful game.'" Sound familiar?
"We are connected in so many ways," Mann continued. "Our clubs have similar values, and we have had a similar impact on soccer in the community. We really are true partners off the field. It's hard to believe that it's taken us this long to get to a regular cadence of games but we're glad that we are."
Grizzle agreed.
"Though our cities have dramatically different stories and cultures, one thing is for certain- Chattanooga FC and Detroit City FC are continuously seeking out meaningful ways to positively impact our communities. I can't wait to see what the future holds in store for both of our clubs."
First Matchup - 4/21/18
On the field has been nothing but success for the team since joining NISA. Detroit City has won both regional Independent Cups, and the 2020-2021 season championship.
Head to head, Chattanooga FC has a (2-5-1) record against Le Rouge, and will certainly look to add to the win total this weekend. Regardless of the outcome, whenever Detroit comes to town, it's always a spectacle.
"We love it when Detroit comes to town. It's always a great atmosphere, and our fans and supporters seem to get up for this match more than any other. Hopefully we can get a good result on the field and keep pressure on them as we race to the end of the season." said Jeremy Alumbaugh, Managing Director, Chattanooga FC.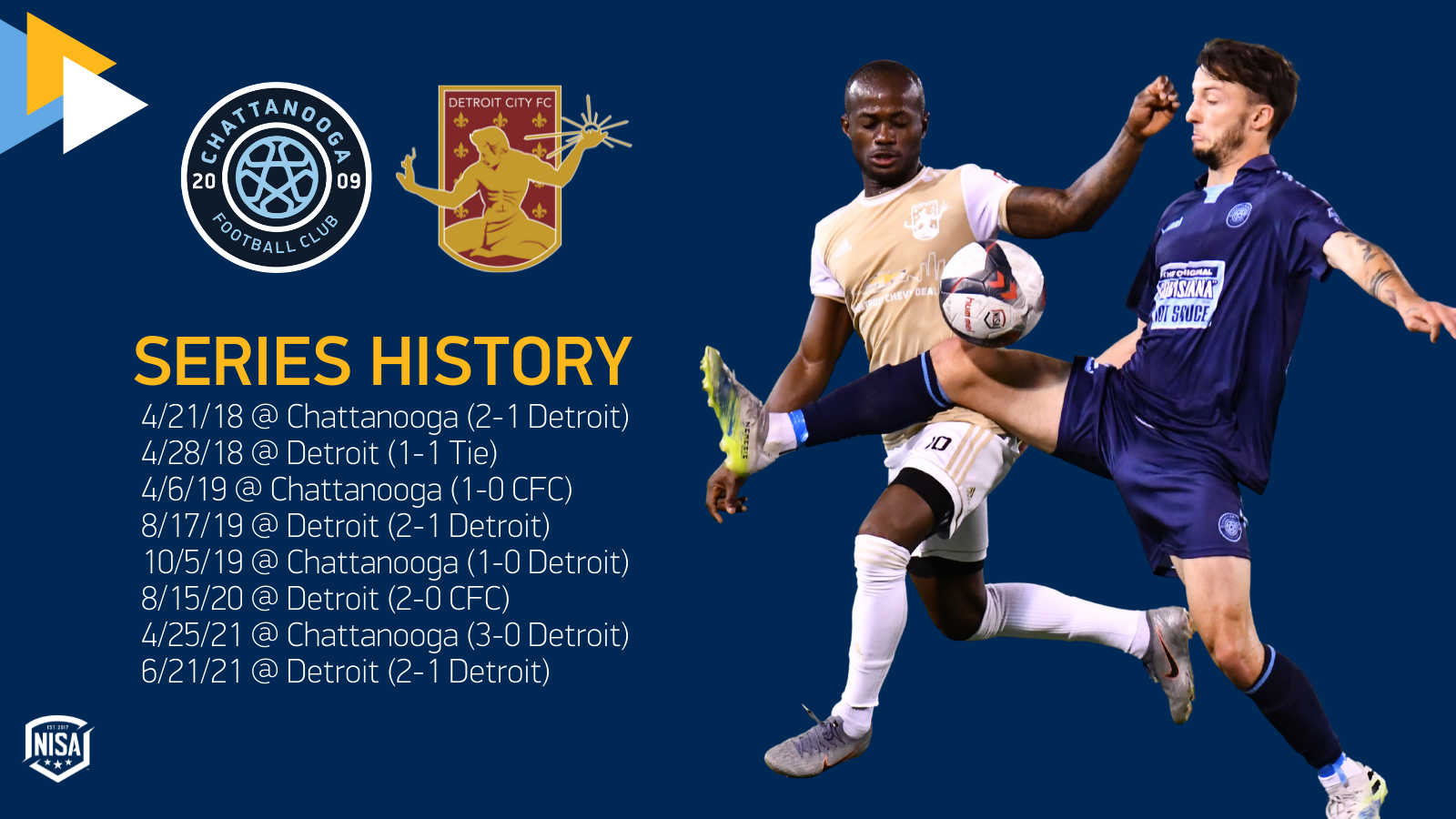 "We always get excited for a match against Chattanooga. Thanks so much to the fans and supporters, it's always a good time."
Tickets are on sale now at CFCTIX.com