Update
Due to overwhelming demand and our inability to properly stock some players jerseys in the original order, we are allowing fans to special order for 48 hours only. These will not be a regular stock item. It will be the only time we place a reorder.
DEADLINE: WEDNESDAY, OCTOBER 27TH at 11:59PM EDT
---
Original Story - Oct. 7, 2021
Chattanooga Football Club announced today the team will wear special-edition Marvel jerseys, during pregame warmup on October 23.
Each player chose which character to wear, and the jerseys will be available for purchase in the official CFC Fan Shop during the game. These jerseys will only be sold inside the stadium on the night of the game and not available online.
If you are not in Chattanooga on the 23rd, you canuse this link and enter for a chance to win one of the jerseys. These are the only ones that are available outside of the stadium.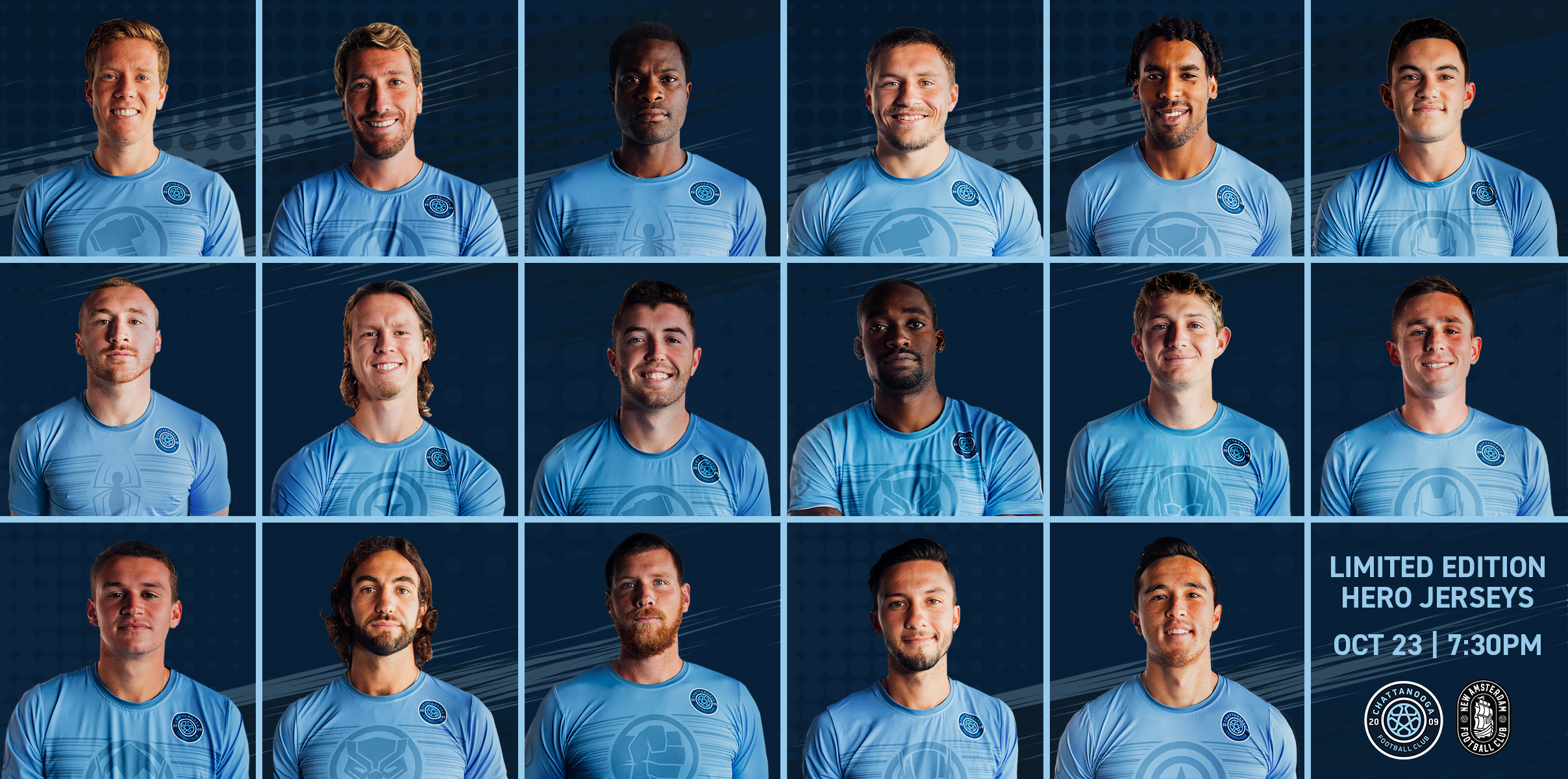 Heroes come in many forms. The past 18 months have been difficult for our community, like all communities, and no group has been put under more stress than our first responders, medical teams, and teachers.
Also, as a small token of appreciation for all the heroic efforts our real life heroes have given to our community, Chattanooga FC is offering FREE tickets to all teachers, medical workers, and first responders. There will also be beer discounts before the match, and the first 500 kids who come into the stadium will get special edition super hero capes thanks to our partners at Food City
"We have persevered through the efforts of so many, specifically our Community Heroes," said Jeremy Alumbaugh, Managing Director, Chattanooga FC. "Hopefully they can come to Finley, enjoy a match, on the house, and have a great night with their families. We are able to provide this opportunity because in 2020 our Annual Pass Members that credited their passes from 2020 to this season all donated two tickets in their name to this cause. All season we have been able to open the doors to CFC to members of our community that otherwise may not have attended."
To access the free tickets: Text "HERO" to 423-445-1002, and you will get instructions on how to get your free admission.
The club will also support, as our Cause of the Night, the Chattanooga Down Syndrome Society, a local non profit that strives to raise awareness and improve the lives of those who have Down Syndrome through programming and support.
Tickets: CFCTIX.com.