• Will be the third meeting this spring between the two clubs; each has won one.
• Former CFC player Samuel Goni now part of Los Angeles Force
MATCH INFORMATION
Wednesday, June 30 | Kenworth Stadium Detroit | 7:30 p.m. (ET) | #CFCvLAF
CFC (2-2-4, 8 points) vs. Los Angeles Force (6-0-2, 18 points)
Watch: BeIN Sports Xtra
When Los Angeles Force came to Finley Stadium on April 13, it was Chattanooga FC winning on its home field 4-1. Two months later on June 9, it was LA's turn to host and it was LA's night. Christian Chaney scored both goals in the last 20 minutes in a 2-0 win for the LA Force. The third meeting between the clubs will be on a neutral site in Detroit with a spot in the NISA league championship on the line.
"I expect the Los Angeles Force team we played (in June) rather than the team that we played (in April)," said CFC Head Coach Peter Fuller.
"They're very different. Made lots of changes. I expect they'll be a real handful."
Fuller went on to say, "One thing I was really impressed with when we were out there is they worked really hard for each other."
Chattanooga FC advanced to the league semifinal by making it to the final in the Legends Cup tournament hosted in Chattanooga earlier this spring. Los Angeles Force advanced to the semifinal based on its standings for the spring regular season. Detroit City FC advanced straight to the final by winning the fall regular season. Detroit will play the winner of Chattanooga FC and Los Angeles Force on July 3 in Detroit.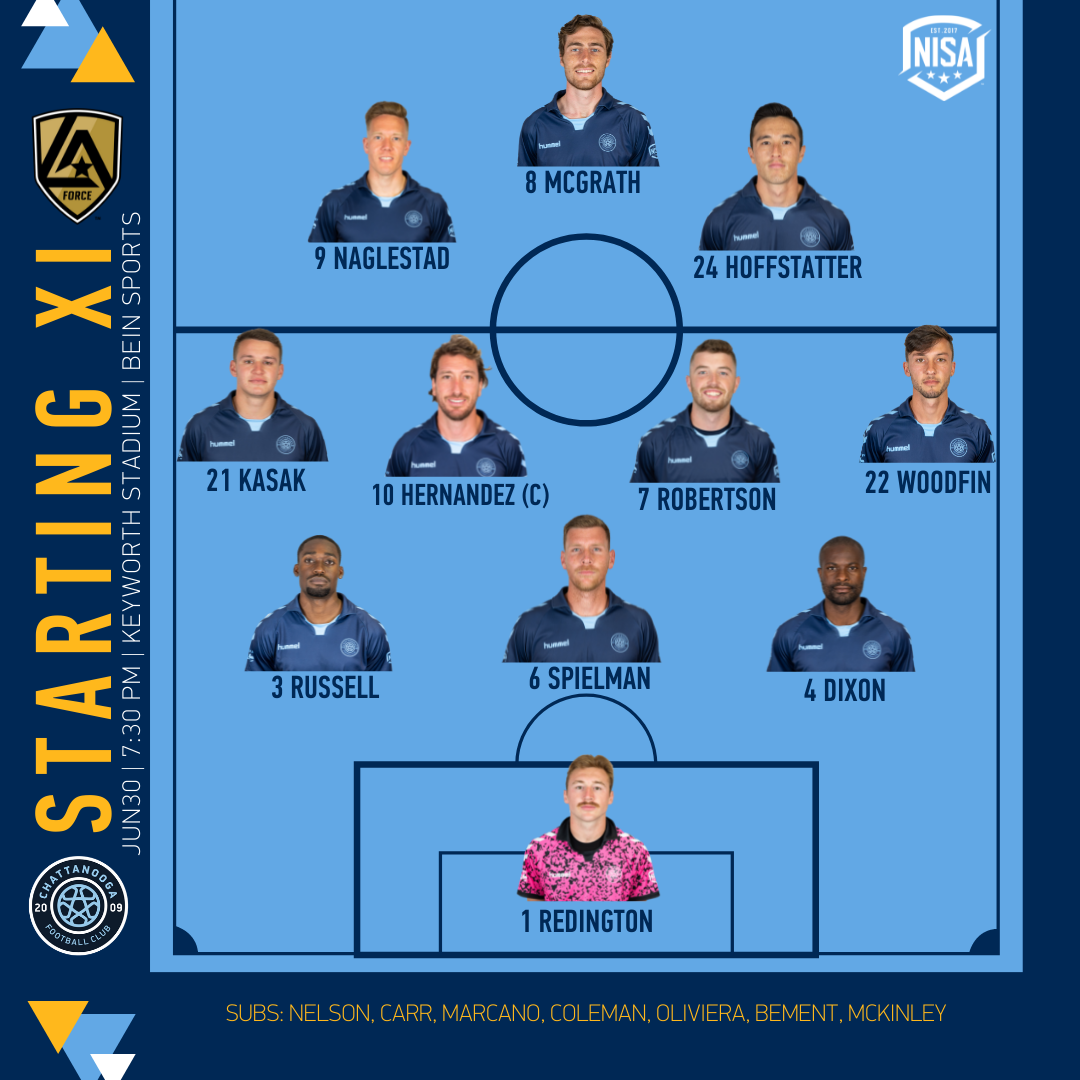 ABOUT CFC
Chattanooga Football Club plays in the third tier of professional soccer in the National Independent Soccer Association (NISA). Founded in 2009, it became the first soccer club to offer true ownership to the fans in 2019 with 3,200+ investors from Chattanooga, all 50 states, and 31 countries. CFC made the move to pro in 2020. It has called Finley Stadium in downtown Chattanooga its home since the beginning.
MILESTONES
1 National Championship: USASA Amateur National Champions
4 NPSL National Finals
3 NPSL Regional Championships
8 NPSL Conference Titles
11 seasons with winning records