The tradition continues. Chattanooga FC is proud to announce today that three players from local academies have earned a chance to train and play with the first team this year. These players showed extreme ability, skill, and have put in the hard work to earn an opportunity to gain exposure to professional soccer.
"We are very pleased with the three youth players that will be with us during 2021" said Peter Fuller, Head Coach, Chattanooga FC. "Michael Barrueta, Angel Hurtado and Ricardo Bahena. The players come from a variety of backgrounds, but all have one thing in common: they are elite level players for their age and will be great additions to our squad for the 2021 portion of the NISA season. We are excited to have them join us."
Angel Hurtado and Rico Bahena are products of the highly competitive North Georgia Soccer Academy. Through its partnership with Chattanooga FC, these players will get the chance to test their mettle against the best that the Scenic City has to offer.
"It is so amazing to see CFC and NGSA work together to help soccer grow in our communities" said Kerem Daser, CEO and Founder, North Georgia Soccer Academy. "Leaders of CFC and NGSA know that their communities matter and we want to help our teams and players reach their goals. Angel and Rico are quality young men that deserve this opportunity."
Michael Barrueta most recently played as a goalkeeper in the Chattanooga Red Wolves Academy, but also featured prominently with the Atlanta United MLS Academy team as both a center back and striker. Since focusing on the goalkeeper position, Barrueta has been able to gain experience by training with professional players and focusing on his individual development with local performance coach Donelle Dunning.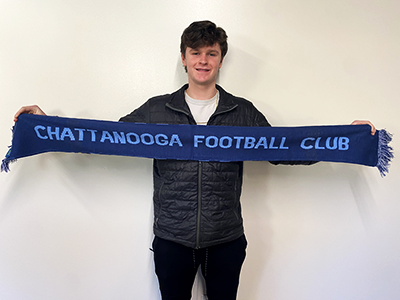 "I am grateful for the opportunity and look forward to working hard everyday," said Barrueta. "It's a great club with a great reputation."
During its first professional season, Chattanooga FC made its commitment to giving opportunities to quality players regardless of their age well known. "Last year we signed Alec McKinley and Alec Reddington to professional contracts, and both of them were on the younger side of our roster. During the summer and fall, we had a number of youth players in training on a daily basis." said Jeremy Alumbaugh Managing Director for Chattanooga FC. "Now this season we are taking a major step forward with a message to youth players, that if you are good enough, you are old enough to be in a professional environment. Credit to these young players in taking a step forward and for thinking outside the box. Not every youth player has the confidence to put themselves in this position, but as a club we feel this area has players that are good enough to take this step and compete at the professional level. These are the first, but definitely won't be the last."
While with Chattanooga FC the players will maintain their amateur eligibility for future collegiate opportunities.
---
Player Profiles:
Michael Barrueta: Goalkeeper
2020–2021: Chattanooga Red Wolves Academy u19
2020: Chattanooga Red Wolves SC, Dalton Red Wolves
2016–2017: Atlanta United 2003
2014–2016: Concorde Fire Elite
---
Ricardo Bahena: Midfielder
North Georgia Soccer Academy
Dalton High School
---
Angel Hurtado: Defender
North Georgia Soccer Academy
Southeast High School