Chattanooga, TN (September 4, 2021) - Chattanooga Football Club announced today that Jamion Williams has been elected to a two-year term as the Supporter Owner representative for the club. Williams is the second person to hold the seat after Claire Tuley completed her two-year term last month.
Williams was one of nine supporter owners who applied for the position from six states and prevailed in the ranked-choice election conducted by the club.
Williams has supported Chattanooga FC since the inaugural season in 2009. He has a varied list of interests and education background including a B.S. in History, a Master's in Library & Information Science, and a Ph.D. in Computational Engineering. Williams is currently a Team Lead for Data Management with BlueCross BlueShield of Tennessee.
"We are pleased to welcome Jamion Williams to the Chattanooga FC Board," said Paul Rustand, Chairman. "His passion for our community and for our club match our purpose and our mission. We believe he will also be diligent and passionate in his role representing our 3,295 owners around the world. We look forward to continuing to advance and grow the club with Jamion over the next couple years."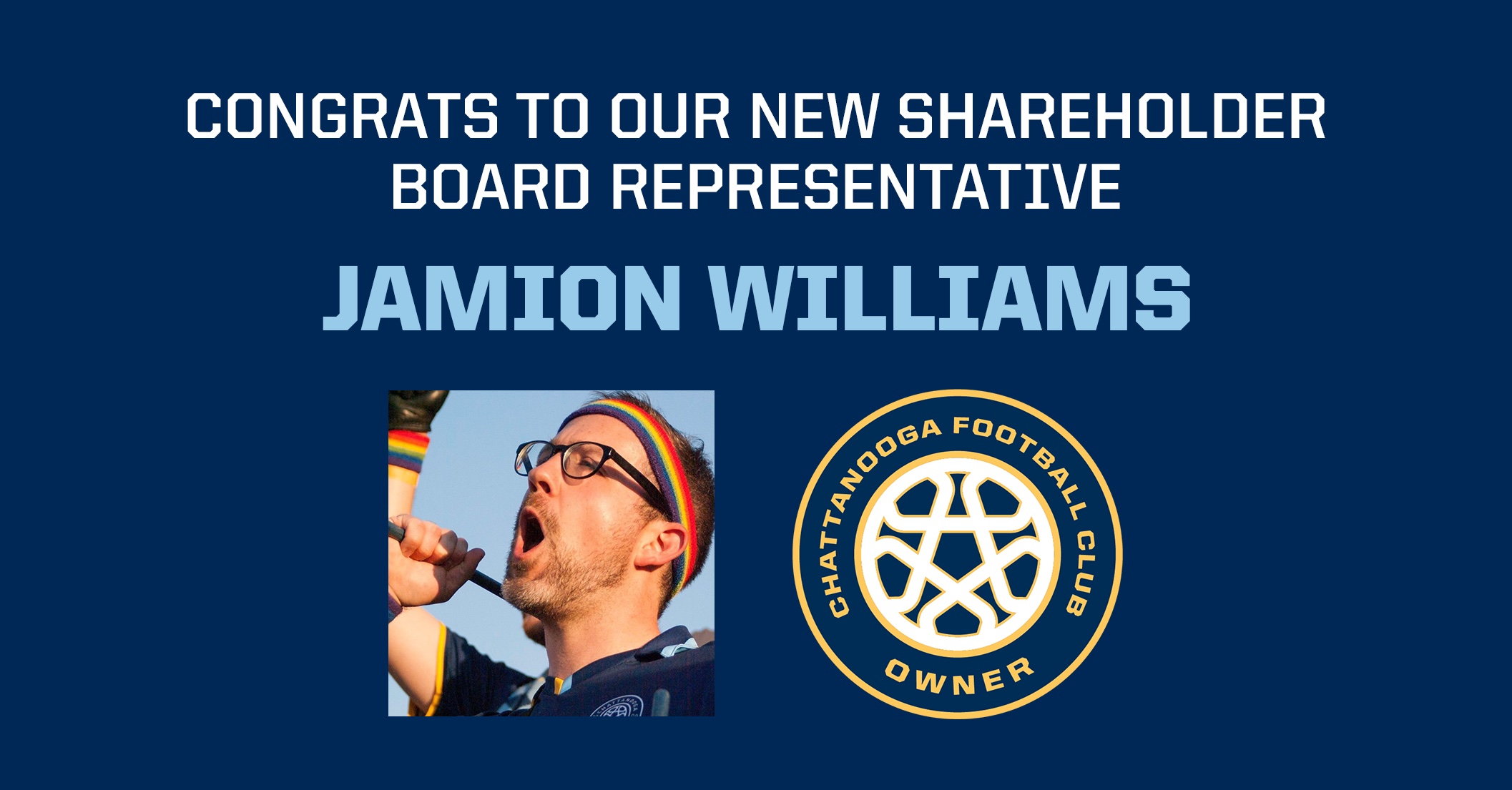 "Despite going against the explicit instructions in my video (to not vote for me), I'm honored that so many people voted for me as the new Supporter Shareholder Board Representative," Williams said. "The panel of candidates was full of people I care for and respect, and it humbles me to be even considered their peer."
"My work now is to stand alongside my fellow supporter shareholders and Chattahooligans to ensure that CFC presents itself as a positive force in our community, and that the Club is held accountable for the social and professional issues which the beautiful game has come to represent around the world. This responsibility is so important as we stand at the cusp of the dawn of a new CFC Women's side, which in my eyes represents a new era in Chattanooga Football Club's history. It has never been more important to ensure that the voice of our supporters group and supporter shareholders is heard at the highest level."
"You'll hear more from me soon about how you, in turn, can hold me accountable by engaging in monthly meetups. Until then, please accept my thanks for your trust and for the honor of serving the supporter community."
For more information on the supporter ownership initiative and Chattanooga FC, visit ChattanoogaFC.com.