Groundbreaking coach had led professional teams around the world, including Jamaica, Sierra Leone, Trinidad & Tobago

Two-time National Champion in professional soccer
A new era begins for the boys in blue. Chattanooga Football Club is proud to announce that Rod Underwood will be the next Sporting Director and Head Coach for the men's first team. Underwood is a seasoned coaching veteran, managing at every level of American soccer as well as professional clubs in Sierra Leone and Jamaica. The Atlanta native is looking forward to hitting the ground running with CFC.
"For me I saw Chattanooga as a big club in a league trying to develop and I wanted to be part of it," said Underwood. "Supporters groups like the Chattahooligans are paramount. They set soccer apart from any other sport in the world. Finley is a great stadium. It has a lot of character in a fantastic downtown location."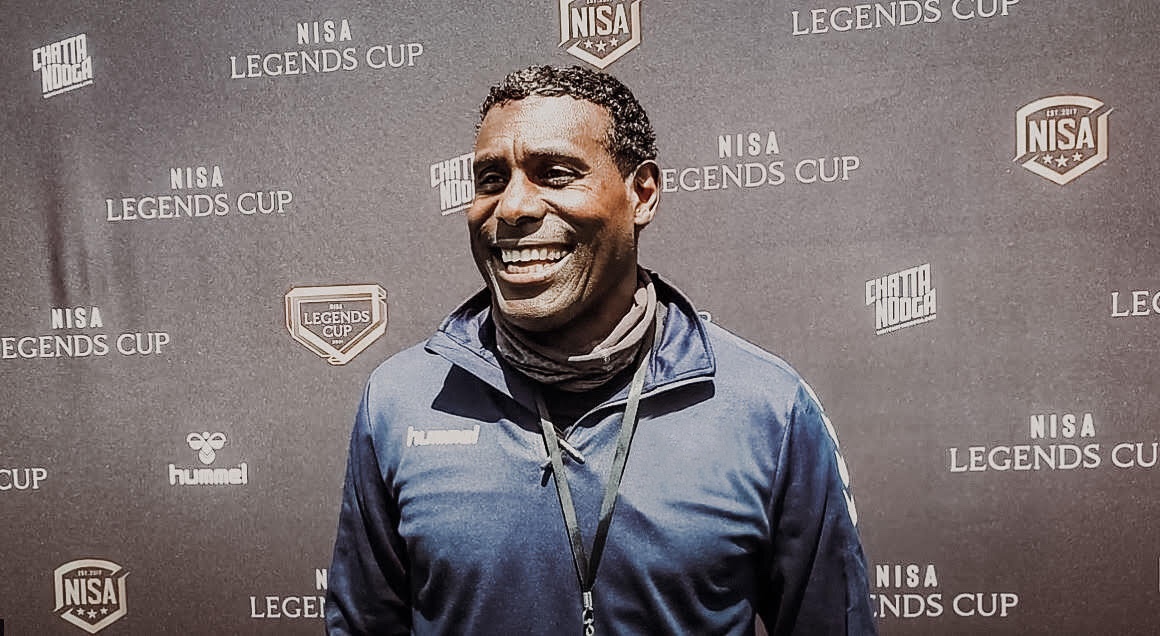 As a player, Underwood made history as the first African-American soccer player for Furman University in 1985. After a 4-year career at Furman, he turned professional, playing for New Mexico Chilies (APSL) and Albuquerque Geckos (USL). After five seasons in the Land of Enchantment, Underwood played closer to home with the South Carolina Shamrocks. During each stop, Underwood served as a player-coach, proving his leadership at every stop of his career.
"We're really excited to have Coach Underwood with the club." said Jeremy Alumbaugh, Managing Director, Chattanooga FC. "Throughout our search there were a few boxes that had to be checked and Rod checked them all. His teams are proactive, he's a fantastic communicator and he has a growth mindset, he's always trying to better himself and those around him. He has a commitment to the community that makes him a perfect fit. I think that fans will really love the style of play he employs, and we're looking forward to the coming weeks ahead."
"Chattanooga FC has been very fortunate to have coaching leadership that understands what the club means to our city, to our community" said Paul Rustand, Board Chair, Chattanooga FC. "Rod follows in that tradition. We feel that he will help the club and our first team continue to focus on our purpose and mission."
In his role, Underwood will have oversight of roster building, planning, and day to day coaching duties for the Men's team. The style of play Underwood employs is an attacking, possession-focused style in the brand of Barcelona, Manchester City and the legendary Dutch teams that began the style.
"We want to put some excitement in the game with a lot of attacking soccer," Underwood continued. "It's all about the ball. Possession based. Very aggressive, both with and without the ball. We want to dictate the tempo and dictate the ball. If someone is going to pay money to go watch a game, I want us to play a game that supporters will want to come watch."
His coaching resume includes stints as an assistant with Portland Timbers (MLS) and head coaching roles with Cleveland City (USL), North East Stars (Jamaica), Mount Aureol (Sierra Leone), Montego Bay FC (Jamaica) where he led his team to CONCACAF Championship qualification, and most recently with Stumptown AC (NISA) in Charlotte.
Underwood has won two USL Pro Championships; one as an assistant coach with Sacramento Republic FC and one as a head coach with Albuquerque Geckos.
Underwood's work on the 2022 roster is already underway. Future additions to the technical staff will be announced in due time.
Season tickets for the 2022 season are on sale now at CFCTIX.com.