CFC Women's Team
Online Forum with VfL Wolfsburg
Wednesday, August 18
12:00-1:00 p.m. EDT
Zoom link will be emailed to all registrants at 11:30 a.m.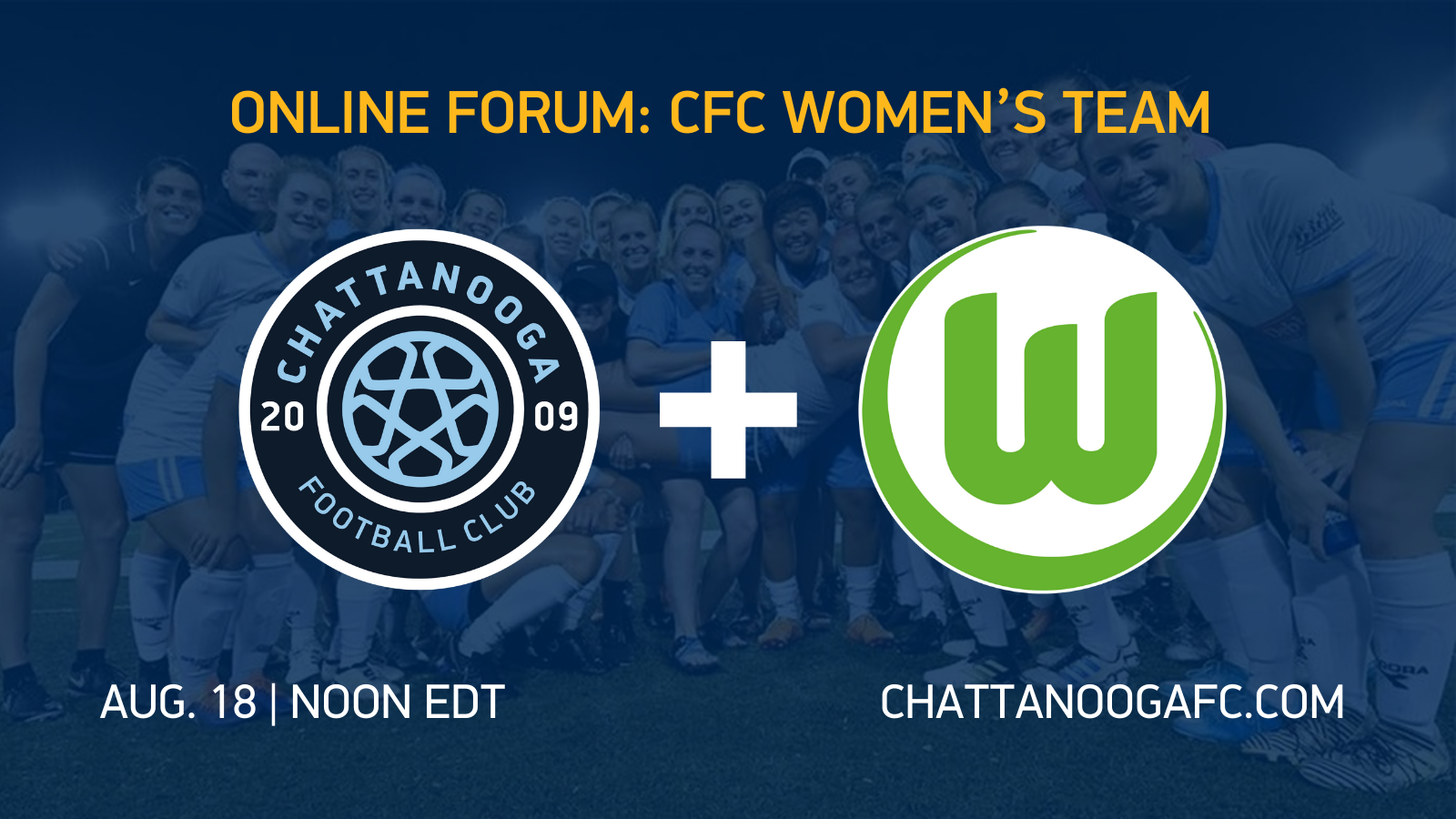 Chattanooga FC will host its third open forum on Wednesday, August 18 as it seeks community input for the relaunch of the CFC Women's Team in 2022.
The previous two forums have occurred on weekends and in-person. This third forum will be online and during the lunch hour on a weekday. Our hope is this time period will allow people who were unable to attend a prior forum the opportunity to participate.
Questions will be accepted in advance and the forum will be recorded for playback if you are unable to attend live.
CFC announced the return of a Women's team to Chattanooga in April. The new partnership with VfL Wolfsburg will not only help build the structure of the team itself, but will create many more opportunities for female players seeking to reach the highest ranks of international play.
Wolfsburg will have a hand in not only the re-establishment of the Women's team, but will play an active role in strategic planning, partnership development, and programming through the CFC Academy, the Chattanooga FC Foundation, and other community partners.
VfL Wolfsburg Women are among the elite of women's soccer globally, having achieved these accomplishments:
Two UEFA (European) Champions League titles

Six of the last eight Frauen-Bundesliga titles (Champions of German Women's League)

Seven of the last eight DFB-Pokal Cups (Champions of German Women's Open Cup)
In addition to developing the women's game through youth engagement and training, Wolfsburg will play an active role in developing soccer engagement for all children in our region. Working with the CFC Academy and the Chattanooga FC Foundation, Wolfsburg will help with the development of both men's and women's coaching education, player development, and overall growth of the game here in our area for all players of all levels.
Just this month, Wolfsburg launched a virtual training video series for youth athletes in the CFC Academy.
"In my opinion, Chattanooga FC is absolutely unique and a true one-off" said Marcel Schäfer, Sporting Director, VfL Wolfsburg. "The club is owned by its fans, which resonates with me in a special way. I've been there several times myself and was always impressed and inspired by the vibrancy and energy of this club and city. I am pleased that we can support this extraordinary club with our commitment to further expand its soccer offerings."