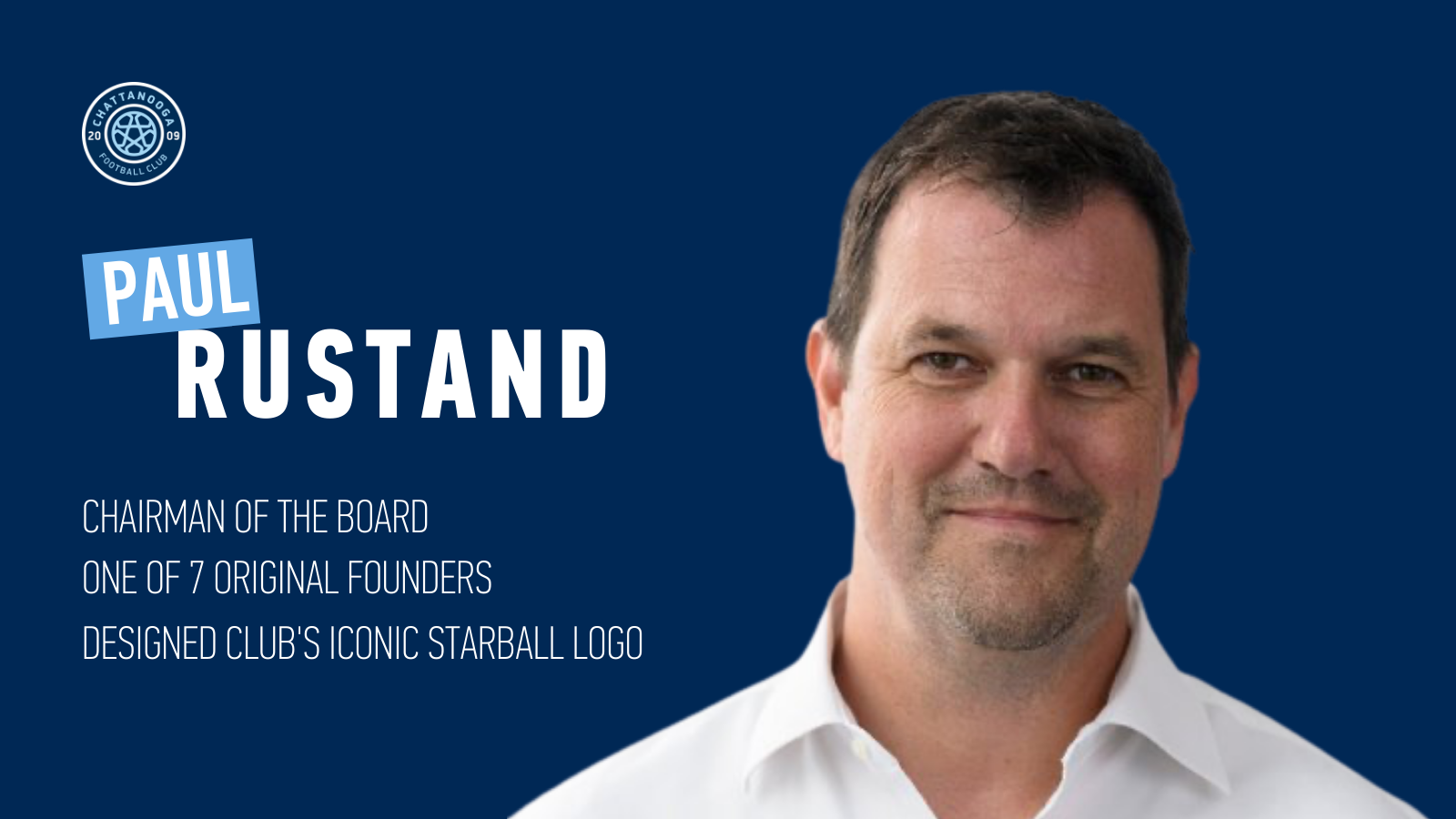 Chattanooga FC Co-Founder Paul Rustand Elected Chairman of the Board
Davis Grizzard named Vice Chairman, Sheldon Grizzle Secretary, Barry Large named Treasurer

Rustand one of seven original founder still involved in the board
Chattanooga, TN (August 6th, 2021) - Today Chattanooga FC is thrilled to announce the election of Paul Rustand as chairman of the board. Paul is one of Chattanooga FC's architects, building the design and brand of the club, including the iconic "starball" logo that has graced every kit since the club's inception in 2009. Now, Rustand will guide the club into the future as chair.
"I am humbled and honored to serve the Chattanooga Football Club as Chairman of the Board" said Rustand. "This club was built for our community by a unique team of people: seven founding members still serve on the board to this day. Together with our newer board members and supporter-owners, we will continue to pursue our purpose and mission: to build our community through the world's game."
In addition to Paul's appointment as Chairman, Davis Grizzard will assume the role of Vice Chairman, fellow Founder/Former General Manager Sheldon Grizzle will serve as Secretary, and Barry Large will serve as treasurer. These moves come after former Chairman Tim Kelly resigned upon his election as mayor of Chattanooga.
"Serving as Chairman of Chattanooga FC over the past few years has been one of the great honors of my life" said Tim Kelly, former Board Chairman, Chattanooga FC. "Helping the club reach its goal of public ownership, the transition to a professional status, and the hiring of our new managing director were all exciting challenges that I was proud to help accomplish. But I feel completely confident that my co-founder Paul Rustand, who understands the soul of this club better than anyone, is the perfect person to lead CFC into the future."
"These changes will help us prepare for the next phase of the club's future" said Jeremy Alumbaugh, Managing Director, Chattanooga FC. "That includes deeper involvement in our community through our Foundation, the rebirth of our Women's team, a stronger partnership with VfL Wolfsburg, the development of Montague Park, and more."